Earphone and headphone markets set for significant growth by 2027, driven by gaming
The global market for earphones and headphones is expected to reach $20.72bn USD by 2027, growing at a CAGR of 9.84%
Meanwhile, the wireless headphone market is set to double that growth, rising by $22.04bn USD by 2027 at a CAGR of nearly 20%.
This is all according to latest report by Technavio which cites drivers as the increased use of earphones and headphones in gaming and AR-VR applications and the increasing adoption of sports and fitness earphones and headphones, which it believes will offer immense growth opportunities.
When it comes to sports earphones and buds, there is a growing demand for IPX-certified devices, with several brands offering new products that are sweat-proof and water-resistant, as well as removable and washable ear padding for some models.
They are manufacturing their products with a certain ingress protection (IPX) rating in mind, ranging from from IP0X to IPX9. This safety rating offers protection against water and dust.
Growth in the global e-sports market is an emerging wireless headphones market trend, Technavio said in another report specific to wireless headphones. E-Sports, it said, is considered to be one of the most popular sports entertainment events in the world and, as well as driving the wireless headphone market, it will drive growth across gaming peripherals generally.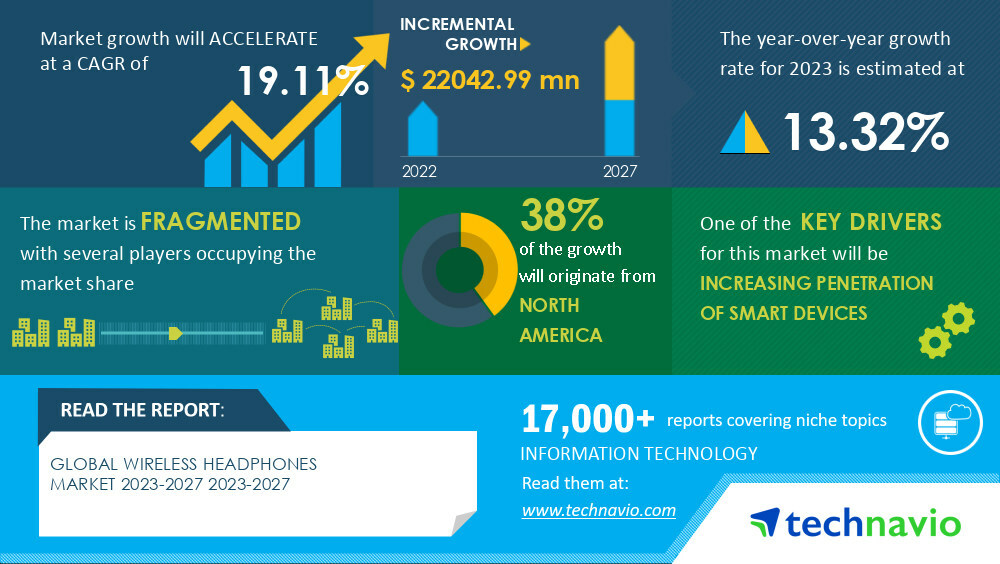 Technavio has announced its latest market research report titled Global Wireless Headphones Market
The music and entertainment segment will also be significant during the forecast period. Here, Active Noise Cancelling (ANC) technology will help drive growth, along with NFC technology and improved wireless connectivity generally.
For example, Technavio cites the availability of Bluetooth headsets used for gaming, which are equipped with the latest version of Bluetooth smart chips, enabling lower power consumption and enhancing the range and quality of the sound.
Opportunities in the earphones and headphones market
To leverage the current opportunities, market vendors must strengthen their foothold in the fast-growing segments, while maintaining their positions in slow-growing segments, Technavio said. The earphone and headphone market is fragmented, and the degree of fragmentation will accelerate during the forecast period.
Challenges in the earphones and headphones market
In terms of challenges, Technavio said that high-priced products are challenging growth of the wireless headphones market. Wireless headphones are expensive, and their cost is expected to increase owing to integration with advanced technologies. In addition, growing consumer demand for additional features is fuelling the price of wireless headphones. This can discourage consumers in developing countries from adopting such products. Thus, the rise in costs associated with wireless headphones is expected to impact market growth negatively.
In addition, the popularity of sports and fitness wireless headphones is growing, and they are generally offered at high prices. The global wireless headphones market is in its growth stage. Most vendors offer wireless headphones at a high price. The high-priced premium wireless headphones are expected to discourage consumers from adopting such products in developing countries. Thus, the increased costs associated with wireless headphones are expected to impact market growth negatively.
For more news, click here
To register for IFA Berlin 2023, click here