ECOVACS GOAT G1 brings automated lawnmowing into a new golden age
ECOVACS ROBOTICS, a world leader in service robots, is cutting a dash in the field of automated lawnmowing with its GOAT G1, a revolutionary robotic mower. The powerful GOAT G1 offers innovative solutions to problems that robotic mower owners are all too familiar with boundary setting, localisation and navigation.
Taking these factors into account and through innovation, the GOAT G1 can mow a 600 square metre lawn in a single day by improving mowing efficiency by 2.5 times compared to other robotic lawnmowers. GOAT G1 can map a lawn area of 1600 square meters. ECOVACS has integrated several novel features into the GOAT G1 in order to simplify the lives of its owners.
One of the most time-consuming and labour-intensive tasks for robotic mower users is boundary setting. With the GOAT G1, hours of tedious laying of boundary wires are replaced by an app-enabled automatic boundary-setting feature. The function replaces electronic cables with ultra-wideband beacon signalling to allow mowers to easily draw a virtual boundary. The dual-vision solution (using both panoramic and fisheye cameras) – combined with ultra-wideband wireless carrier wave communication, inertial navigation and GPS – ensures a highly accurate lawn cut, with minimum hassle.
Avoiding stones and hedgehogs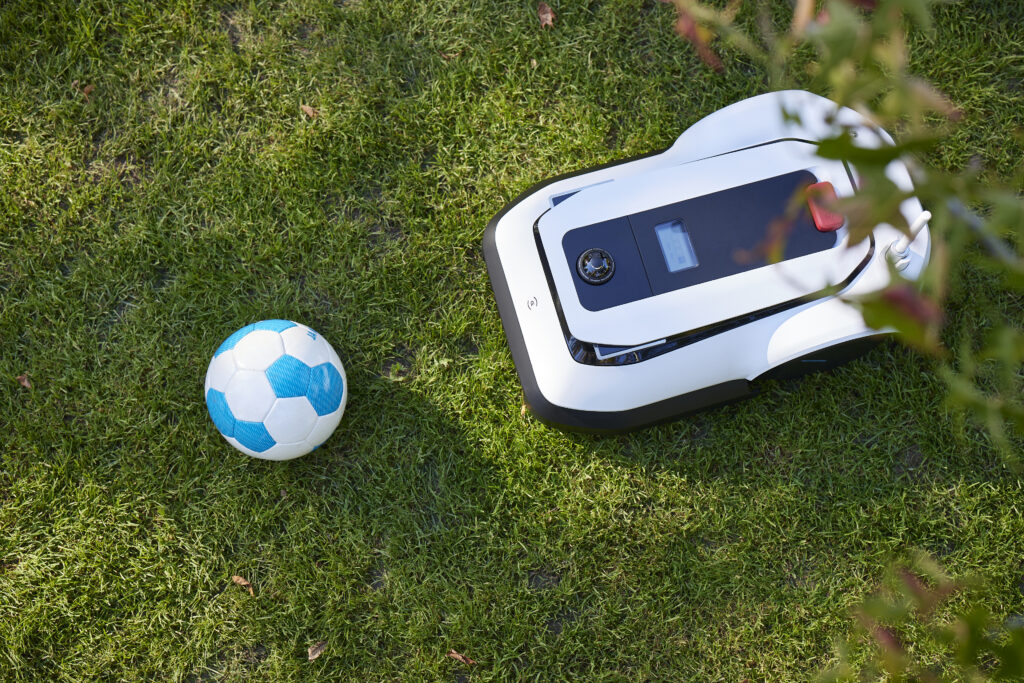 While manual lawnmowers may be challenging to work with, they give owners control over obstacle avoidance, one of the biggest concerns for users when moving to a robotic counterpart. GOAT G1 addresses this issue with the industry's first-ever highly innovative AIVI 3D. This specially-designed technology is powered by a 150-degree visual angle fisheye camera and ToF sensor to actively prevent obstacle collisions during outdoor usage.
The GOAT G1's dual-vision solution, incorporating panoramic and fisheye cameras, enables both precise and broad-ranged visual recognition. The mower easily avoids humans in its path while its precision ensures that it will also avoid objects as small as 3-15cm, for example stones and hedgehogs as well as dogs, cats, and hoses. For taller obstacles over 15cm, such as swings and trees, the ToF sensor accurately estimates the distance and avoids them at a closer range to reduce untreated grass during mowing.
An additional feature of the product is a 360-degree multi-spot guarding function which provides complete security for garden owners even when they are away from home. The unit also includes real-time protection and early warning notifications delivered via a mobile app.