Forget manic Monday, it's mechanic Monday for day four of IFA!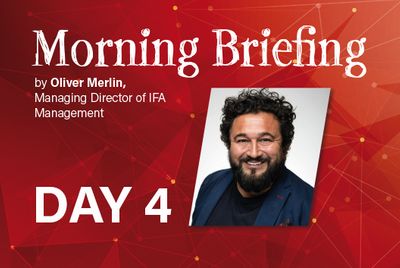 Good morning IFA enthusiasts, rise and shine for day four! For those of you who are joining us for the first time today, welcome! If the past few days have been any indication, we're in for another exhilarating ride today. The weekend was a tech lover's dream come true, with every corner of the Messe Berlin echoing with innovation, chatter, and the unmistakable hum of excitement. The Sustainability Village, where the future of eco-friendly tech was on full display, was a particular highlight.
For those of you who might've missed it, the Global Markets area opened its doors yesterday, unveiling a world of technological marvels. If you haven't wandered its aisles yet, you'll want to put that at the top of your list for today.
Now, if robots, automation, and the future of tech tickle your fancy, you're in for a treat! The world's leading robotics companies are showcasing their latest innovations at the "House of Robots". Get up close and personal with cutting-edge robots like Desdemona, Mirokaï, RoboSphere, and the robotic dog, Spot. Dive deep into the robot revolution and explore how automation is reshaping our lives, both at home and at work.
If you're looking for a conference to attend, you might want to start with Babbel's Co-founder Thomas Hall on the IFA Next stage with his conference on Babbel's expansion into the US at 10:45 a.m. And if you're one to keep an eye on innovation, carve out some time at 4:15 p.m. for the Pitch battle finale. This is where the future of startups is being decided! Over in the Sustainability Village, Uwe Schulte is gearing up to unravel the complexities of global supply chains and their sustainable future at 11:00 a.m. And for those with a keen interest in the European Green Deal, Paolo Falcioni's 11:30 a.m. session is where you'll want to be. E-waste, a pressing concern for our industry, gets its spotlight at noon with Jens von Wedel leading the charge.
Navigating IFA can be a whirlwind, so don't forget that if you ever feel the need to catch your breath, our outdoor co-working spaces are your haven. Perfect for a moment of respite, a quick email check, or just to take in some Berlin sun.
From the tech aficionados to the first-time attendees, I'd like to thank every single one of you for making IFA 2023 the success that it is. Your passion, questions, and boundless enthusiasm are what make this event truly special. So, let's dive into day four with the same zest and zeal, making it another day for the books. Can't wait to see you around, share some tech stories, and perhaps even share a laugh or two. Here's to another day of discovery and business. Happy exploring!