GE Appliances launches CoCREATE innovation incubator
Housing a makerspace and an appliance micro factory, GE Appliances' CoCREATE is a hub for community innovation
Housing a makerspace and an appliance micro factory, GE Appliances' CoCREATE is a hub for community innovation
American household appliances manufacture GE Appliances, part of the Haier group of companies, has announced that the doors to its new innovation centre in Stamford, Connecticut are now open to the public.
Created in collaboration with state education and workforce development leaders, CoCREATE, according to the firm, is a first-of-its-kind co-creation hub designed to bring people together to make, connect, and inspire.
"We are thrilled to officially open CoCREATE, a dynamic incubator for innovation and partnership that puts the community at the very centre of the experience," said GE Appliances President and CEO Kevin Nolan. "CoCREATE is the latest example of our continued commitment at GE Appliances to investing in America and creating possibilities that lead to economic growth and opportunities in local communities like Stamford."
CoCREATE offers unique opportunities for everyone, says GE Appliances, from the local maker community to families and consumers.
A space for makers
Housing the second GE Appliances' social product development makerspace, FirstBuild, CoCREATE offers access to hand tools, 3D printers, lasers, and other state-of-the-art equipment.
In addition, the new makerspace will also offer community hours that invite individuals to explore their creativity, prototype ideas, and transform concepts into products. And, CoCREATE will host educational programming and other learning opportunities for students, families, and community groups.
Micro factory
CoCREATE also accommodates a micro factory, which began manufacturing some of the firm's small household appliances last year. Visitors can see inside and watch the craftsmanship that goes into building the small appliances in GE Appliances' product line up.
At the factory, the company says it is building on its commitment to workforce development and to American manufacturing by creating alliances with the University of Connecticut and Connecticut State Colleges & Universities (CSCU). Through these partnerships, students are able to work part-time shifts in the factory after classes and learn alongside CoCREATE engineers.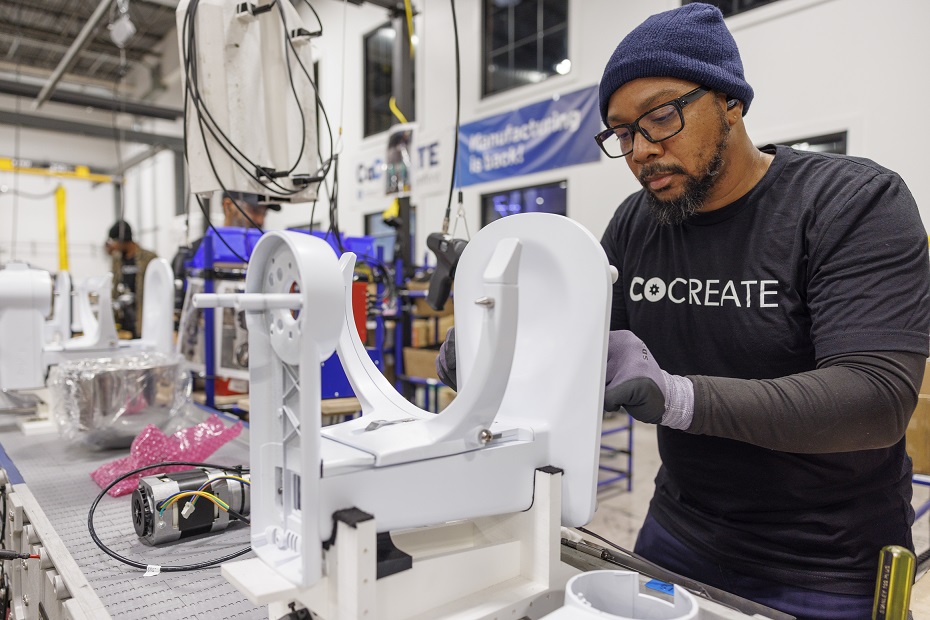 Credit: GE Appliances
Additionally, CoCREATE offers an on-site community coffee shop, creating what the company is calling "a welcoming place for visitors to connect." Moreover, within the facility's design and experience centre, community members can engage directly with CoCREATE staff, test new products, and provide their feedback.
Test kitchen
GE Appliances has also equipped CoCREATE with a Monogram Test Kitchen, providing a place for cooking enthusiasts to elevate their skills. Equipped with Monogram brand appliances, the fully functional kitchen is set to host chef demonstrations, cooking lessons, and other community events.
Local chefs will be able to use the test kitchen as part of a newly formed partnership with the Village Community Foundation's "Kitchen Incubator"' Program, which supports local, emerging chefs and restaurateurs.
Brand showroom
As well as creating, sharing and testing, CoCREATE visitors can take advantage of the facility's immersive showroom for GE Appliances, offering inspiration for home and kitchen design through kitchen vignettes from the firm's various brands, such as Monogram, Café, GE, GE Profile, Haier, and Hotpoint.
CoCREATE also features a retail area where visitors can purchase products as well as a heritage centre that pays homage to the region's rich manufacturing history. Visitors can learn more about industrial and consumer products that were invented in Connecticut, including small appliances first developed by General Electric in the 1920s.
State-of-the-art facility
CoCREATE is located in a 67,000 square foot facility in Stamford's Harbor Point neighbourhood and merges elements of modern manufacturing and community collaboration and engagement in a state-of-the-art facility, creating what the company deems "an environment that fosters innovation, cultivates meaningful partnerships, and drives exceptional customer experiences."
For more home appliances news, click here.