Household appliances highlights from IFA 2023: sustainable and smart
Sustainability and smart tech were core trends for household appliances at IFA 2023
There was certainly no shortage of exciting new household appliances at IFA 2023, as exhibitors from around the world showcased their latest home device offerings. Two trends in particular were central to the new appliances on display: sustainability and smart technology.
Sustainable household appliances
In an effort to contribute to conserving the planet, manufacturers continue to look for ways to make their products more sustainable. In this regard, at IFA 2023 many brands presented household appliances boasting eco-friendly technologies.
Beko for example introduced its EnergySpin technology for washing machines. Rather than relying on heat to dissolve detergent and eliminate stains, the new tech releases detergent upfront and harnesses faster drum speeds to elevate the pace at which the detergent dissolves, resulting in up to 35% less energy consumption than conventional machines.
Bosch on the other hand presented its Green Collection fridge freezers that have been made from what the company is calling"green steel" and bio-based plastic. These materials reduce the carbon footprint of the refrigerators by 33% with respect to standard models.
In another attempt to make household appliances more sustainable, LG Electronics introduced its heat pump technology. The firm's new Therma V R290 Monobloc Air-to-Water Heat Pump (AWHP) provides powerful heating and is equipped with an array of efficiency-boosting LG technologies and utilizes R290 refrigerant, which has a Global Warming Potential (GWP) of only three according to the brand.
In addition, global appliance maker Electrolux Group – under its premium brand AEG – showcased its most resource-efficient models at IFA 2023: the AEG EcoLine, a dedicated selection that covers washers, dryers, ovens and cordless cleaners all aimed at helping consumers to reduce climate impact while providing high-quality performance. One example is a refrigerator featuring an inner lining made from 70% recycled plastic.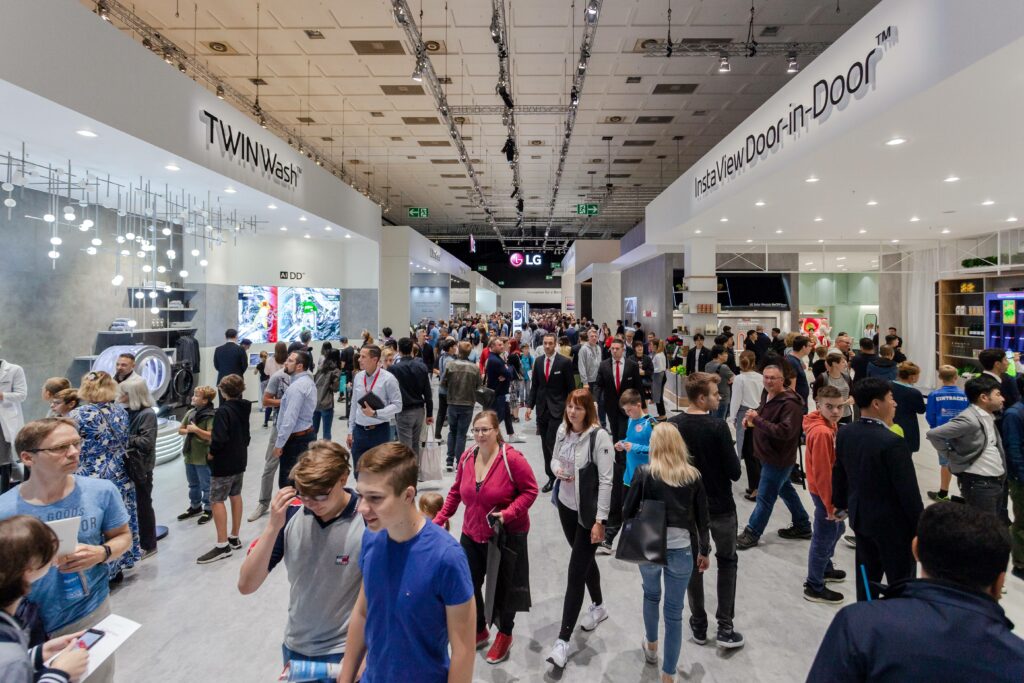 Credit: IFA
New product category
Taking sustainability beyond its existing products, Miele revealed what the brand considers a completely new product category with the Aerium Laundry Cabinet. The new device allows users to refresh garments, eliminating odours and creases as well as allergens, bacteria, and viruses, without the need to dry clean or wash them, protecting clothes and the environment. With three different programmes, the Aerium Laundry Cabinet has space for three hanging garments as well as other items such as shoe, or hats and gloves.
AI-driven smart household appliances and connectivity
Artificial intelligence (AI) when it comes to household appliances is much more than hype and at IFA 2023 many manufacturers highlighted products that harness the power of AI to deliver efficiency and better results while many smart and connected household devices saw tech breakthroughs at this year's show
Dreame Technology unveiled its latest robotic vacuum, the L20 Ultra, which uses AI-driven MopExtend technology to ensure what the company is calling "meticulous edge cleaning." The L20 Ultra not only cleans floors, but also self-maintains. It includes a Duo-Scrub mopping system along with automatic dirt detection technology.
Other impressive advance in AI came from the start-up Sensibo whose artificial intelligence technology is able to turn any air conditioner into a smart device, thus contributing to indoor energy efficiency.
In light of the growing demand for connectivity, Samsung announced that all of its products will become Wi-Fi enabled and digitally connected under the company's SmartThings strategy. This new capability will allow users to be notified via their Samsung Smartwatch if they leave the fridge door open, or when the laundry is done.
Bosch brought forward its smart Series 8 washing machines at IFA, devices that work with Bosch's Home Connect app and are capable of delivering the exact amount of detergent, depending on the weight of the wash load. According to the brand, this can save up to 40% of water and 38% of detergent.
Additionally, under the motto "Garden of Intelligence" Siemens presented a range of smart household appliances also designed to be sustainable, including AI-powered built-in refrigerators. Users can have flexible control over these appliances via the Home Connect app or the Siemens Smart Kitchen Dock.
For more household appliances news, click here.