Sony launches Alpha 9 III (α9 III) - the "world's first full-frame image sensor camera with global shutter system"
Sony has announced the launch of its new Alpha 9 III (α9 III) camera, which comes equipped with a full-frame global shutter image sensor
According to Sony, the new global shutter full-frame image sensor enables the camera to shoot at burst speeds of up to 120 frames-per-second (FPS) with no distortion or camera blackout. The α9 III is set to become available this coming January.
By combining this innovative sensor with Sony's most advanced AF system to date, this new camera promises to open up a new world of possibilities for professional photographers to capture that decisive moment, the company claims.
Yann Salmon Legagneur, Head of IP&S Marketing, Sony Europe, said: "The new Alpha 9 III is a landmark achievement for Sony's imaging business. Designed with the needs and demands of professional photographers in mind, every single update to this camera – from the sensor to the size to the button layouts and menu functions – has been made to address specific requests and feedback from our imaging community."
"We have listened and are thrilled to bring the new capabilities of the Alpha 9 III to fruition …capabilities which allow photographers to capture things they've never been able to capture before," said Mr Legagneur.
"For creators everywhere, they can achieve even more dynamic expressions when the Alpha 9 III is combined with our rich line-up of lenses, in particular with the new 300mm F2.8 G Master – the world's lightest large-aperture telephoto lens."
Features
The new α9 III is equipped with a newly-developed global shutter full-frame stacked CMOS image sensor, along with approximately 24.6 effective MP and built-in memory, combined with the latest image processing engine BIONZ XR.
It achieves blackout-free Continuous Shooting with AF/AE tracking of up to approximately 120 frames per second, says Sony. Meanwhile, a designated AI processing unit uses Real-time Recognition AF to recognise a wide variety of subjects with high precision.
By combining high-speed performance of up to 120fps with highly accurate subject recognition performance, the a9 III makes it possible to easily photograph decisive scenes and moments that cannot be captured with the naked eye.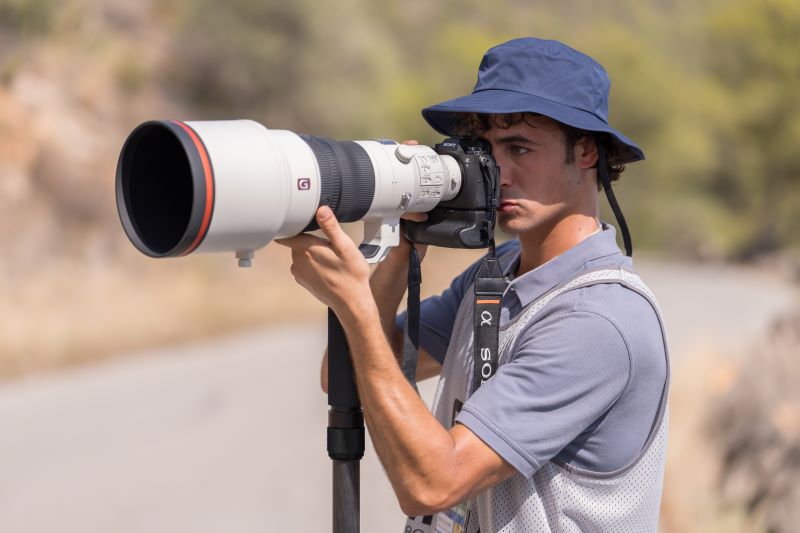 S
ony Alpha 9 III with FE 300mm GM OSS telephoto lens
In addition, the α9 III achieves a maximum shutter speed of 1/80000 second (1/16000 second during continuous shooting), making it possible to capture images at high speed without any distortion.
And, when a compatible Sony flash is attached, such as the HVL-F60RM2 and HVL-F46RM (sold separately), it is possible to synchronize the flash and take pictures at all shutter speeds up to 1/80000 second, Sony claims.
The α9 III features selectable release lag modes which allows the user to prioritise release lag, or viewfinder/monitor display, while the newly installed Pre-Capture function allows the user to go back up to one second and record the moment before pressing the shutter. A Continuous Shooting Speed Boost (x) change during shooting, and enhanced burst stamina ensures that important moments are reliably captured due to a large buffer memory. The increased overall system speed allow up to approximately 390 Fine JPEG images to be captured in one continuous 30 FPS burst.
Customisable focus areas have been expanded to include from XS to XL, while the Preset Focus/Zoom function allows preset focus and zoom settings to be memorised in the camera for quick recall when needed.
Video
The camera also includes features for advanced video performance without distortion, as well as S-Cine-tone, which "make human skin and subjects stand out beautifully, creating natural highlights."
Plus, it comes with the latest video performance including rich gradation performance and S-Log3, and when in Log shooting mode, it can reflect and display the user's favourite imported LUT. The α9 III is also compatible with the mobile app "Monitor & Control" for video creators.
Operability and reliability for professionals
Based on feedback from photographers, the shape of the grip has been improved and ergonomically designed so that the camera can be easily held in the palm of the user's hand to avoid strain even when using a telephoto lens or over long periods of time.
The VG-C5 vertical grip (sold separately), offers the same functionality and versatility when shooting horizontally; providing comfortable support for long shooting sessions.
It also has a 4-axis multi-angle LCD monitor that can be operated by touch, allowing for intuitive operation using the latest touch menu, Sony says.
The electronic viewfinder uses a 9.44 million-dot Quad XGA OLED and achieves high visibility with the same brightness as the A7R V and a magnification of approximately 0.90x.
A custom button is placed on the front of the camera, and the continuous shooting speed can be changed by operating the custom button assigned with Continuous Shooting Speed Boost with the finger holding the grip, allowing for highly immediate operation. It supports professional photographers when shooting in all environments.
Sony says the company will continue to expand functions such as breathing correction, relay playback, and C2PA format support for the α1 and α7S III in the future to meet the needs of professionals along with the α9 III.
For full details, click here
For more imaging news, click here