Top kitchen trends in 2024, NKBA report
In its latest report the National Kitchen & Bath Association (NKBA) identifies top kitchen trends for 2024
The National Kitchen & Bath Association, an American trade organisation made up of some 50,000 members, including kitchen designers, dealers, installers, and manufacturers, has released the latest edition of its annual research report focusing on top kitchen trends in 2024. According to NKBA the report "provides a comprehensive look into key aspects of kitchen design with the goal of revealing anticipated trends for the next three years."
Based on the feedback of 630 industry professionals across North America, the report identified several key trends that are set to impact kitchen design in 2024 and beyond. According to the NKBA's research, the focus over the next three years will remain on multi-function designs, easy-to-clean kitchens, eat-in dining areas, sustainability, and advanced kitchen tech while NKBA's findings also identified some important emerging trends.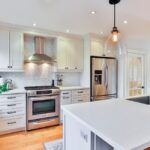 "For many consumers, the kitchen is really the focal point of their house—and it's often the most used room in the home," said senior vice president, Marketing & Digital at NKB, Pamela McNally. "NKBA's Kitchen Trends Report reveals new and emerging design preferences from true industry professionals. What's more, there are really interesting lifestyle insights about how kitchen design, relative to the rest of the house, is impacted by how and where we gather. We're pleased to share this data regarding the trends that designers and homeowners can expect in 2024."
Design trends: colours and materials
Looking at top kitchen trends in 2024 and what will be in and out with respect to colours and materials, the report found that according to survey respondents gold fixtures will be all the rage in 2024 and beyond. Almost half of the respondents said gold would be the top colour for kitchen faucets, followed only by stainless steel and black kitchen fixtures.
In terms of kitchen colour schemes, green was chosen as the biggest trend by 31 percent of the surveyed kitchen design professionals. When it comes to materials, 28 percent of those surveyed cited wood as a major trend for cabinetry in 2024 while 25 percent chose white cabinets.
Texture is another "in" design trend and of the NKBA survey participants 52.1 percent claimed that textured backsplashes would be on the up over the next three years. 52.1 percent said they expect more honed and matte countertop finishes as opposed to the 36 percent who said they preferred more smooth and polished surfaces.
Eco-conscious choices
Among other top kitchen trends in 2024 and beyond, sustainability remains an important priority, both for kitchen design professionals and homeowners, the NKBA study found. Going forward, designers will continue to take into account and prioritise reducing, reusing and recycling in the kitchen.
To that effect, 51 percent of the study's participants said they consider the longevity of products when purchasing large household appliances like ranges and refrigerators and maintain the goal of fewer appliance replacements. At the same time, energy efficiency and reduced water consumption are also at the top of kitchen designers' minds.
With respect to reuse, the survey found that 43.5 percent of respondents said they donated used cabinetry while 37 percent said they donated used appliances. On the recycling front, kitchen professionals were found to be prioritising storage for recycling (52.5 percent) and composting (23 percent), incorporating built-in recycling storage bins in their designs.
Other key findings
Additional top kitchen trends in 2024 the report identified are the increasing connection between the kitchen and the outdoors; the rise of innovative personalised designs; the ongoing use of minimalist designs that are easy to clean and maintain; the growing use of islands as the heart of the kitchen, and making use of the kitchen as a place for wellness and nutrition.
For more news, click here