Volkswagen and Harman Kardon unveil cutting-edge sound system for ID.7
HARMAN, subsidiary of Samsung Electronics Co., Ltd., has announced a new partnership with Volkswagen.
This collaboration focuses on designing automotive-grade consumer experiences and has resulted in the development of a state-of-the-art Harman Kardon sound system for Volkswagen's latest all-electric limousine, the ID.7, exclusively for the European market. The integration of advanced technology and iconic design in this collaboration sets a new benchmark for both music and driving enjoyment.
70 years of acoustic expertise
With a rich legacy of 70 years in acoustic design, tuning, and signal processing, Harman Kardon is renowned for delivering captivating sound experiences that transport listeners to the present moment. Leveraging the immersive power of sound, the Volkswagen ID.7, equipped with the optional Harman Kardon audio system, takes the joy of driving to unprecedented levels.
An immersive sound experience
Greg Sikora, Senior Director of Global Acoustic Systems Engineering at HARMAN, expressed his excitement about the partnership, stating, "Harman Kardon and Volkswagen have once again combined their expertise to deliver the best of both the driving and listening experience." The collaboration between Harman Kardon's acoustics engineers and Volkswagen's design team has resulted in a sound system that perfectly complements Volkswagen's first all-electric limousine.
The Harman Kardon premium sound system in the Volkswagen ID.7 goes beyond ordinary music reproduction. It has been meticulously fine-tuned to unlock the full potential of sound, allowing listeners to appreciate every subtle detail. Through countless hours of collaboration and tuning, the system delivers superior audio performance regardless of the road conditions. With an impressive setup comprising 14 speakers, 16 channels, a subwoofer, and a center speaker, all powered by the Fraunhofer Sonamic Panorama algorithm, the sound system offers precise and detailed sound reproduction. It provides a listening experience where music and spoken content seamlessly blend, resulting in an exhilarating and high-quality driving experience for both drivers and passengers.
A customized listening experience
The Harman Kardon engineers have incorporated innovative technologies to enhance and personalize the listening experience inside the Volkswagen ID.7. The cutting-edge Fraunhofer Sonamic Panorama algorithm separates individual sound sources in stereo recordings and evenly distributes them in a U-shaped soundstage that envelops and immerses everyone in the vehicle. This groundbreaking approach allows listeners to perceive details that would otherwise go unnoticed while maintaining high-quality playback, even with low-quality audio signals like poor radio reception.
Additionally, the Harman Kardon sound system features sound focus seat optimization technology, enabling specific seats to be highlighted for the best listening experience. Whether optimizing sound for all seats, the front seat, the driver's seat, or the rear seat, the system provides flexibility to cater to individual preferences. Moreover, the system offers four distinct sound settings, allowing listeners to personalize their experience. These settings include Pure, Relax, Speech, and Vibrant, each accentuating different sonic aspects and providing a completely new perception of sound.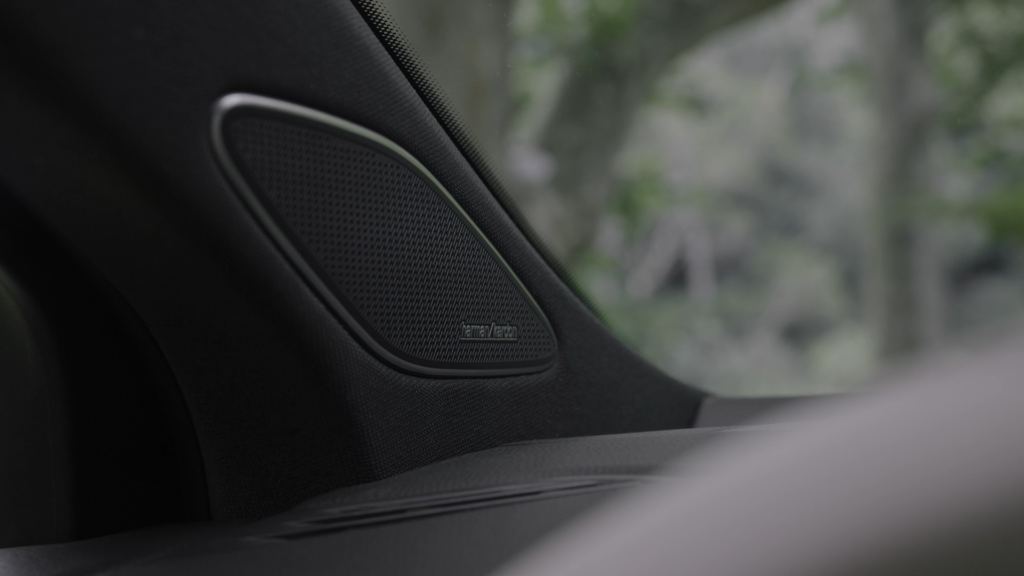 Credit : Harman.comSeamlessly integrating with the Volkswagen ID.7
In terms of design, the Harman Kardon sound system seamlessly integrates with the Volkswagen ID.7's interior, matching its design language. The speaker grills, crafted from ultra-thin 0.5 mm high-strength steel, feature a distinctive 60° hole pattern, paying homage to the iconic angled slash of the Harman Kardon logo. These grills not only enhance the aesthetic appeal but also contribute to optimal acoustic performance.
To conclude, with this partnership, Volkswagen and Harman Kardon continue to redefine the boundaries of automotive audio, offering drivers and passengers an unrivaled fusion of music and driving pleasure.
Read also : Home entertainment: How VCRs blazed a trail for continuing tech progress