FRITZ!Box 5590 Fiber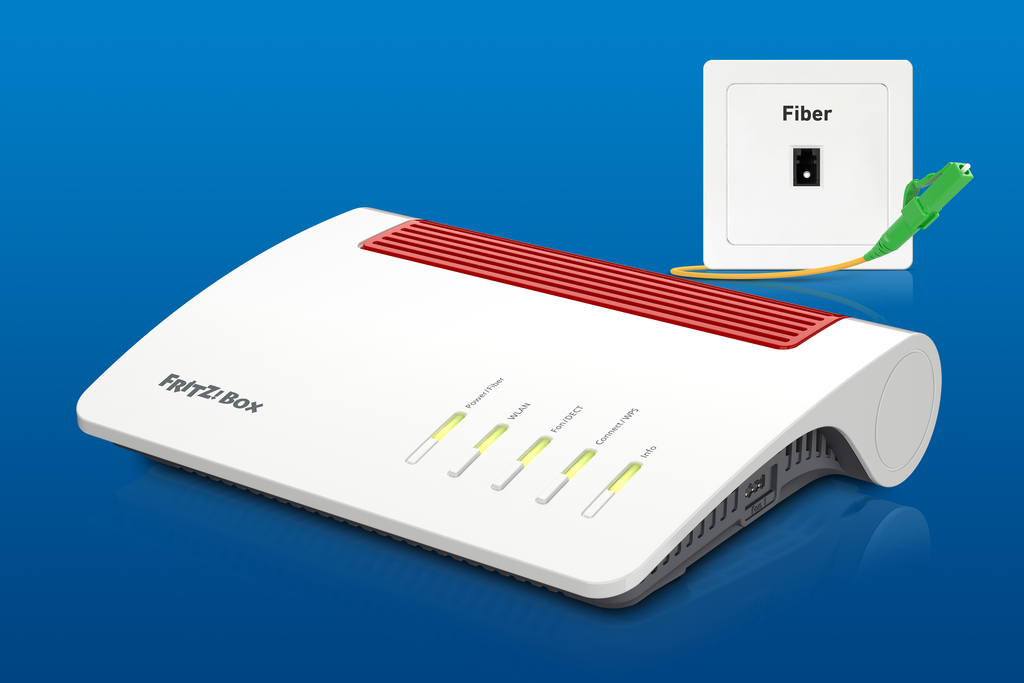 Die FRITZ!Box 5590 Fiber von AVM unterstützt alle gängigen Glasfaserstandards (AON, GPON, XGS-PON) und ist bundesweit für Anschlüsse aller Internetanbieter wie Deutsche Glasfaser oder Deutsche Telekom geeignet. Anwender können die FRITZ!Box 5590 Fiber direkt an die Glasfaserdose anschließen und sofort die Vorteile eines All-in-One-Gerätes nutzen: Schnelles Internet, WLAN, Streaming, IP-Telefonie, Vernetzung und Smart Home. Die FRITZ!Box integriert alles in einem Gerät und verringert so deutlich den Energiebedarf. Um das hohe Glasfasertempo drahtlos im Heimnetz zu verteilen, verfügt die FRITZ!Box 5590 Fiber über starkes WLAN und vielseitige Vernetzungsmöglichkeiten. Im WLAN mit Standard Wi-Fi 6 (4 x 4) werden bei 5 GHz Datenraten von bis zu 2.400 MBit/s erreicht, im 2,4-GHz-Band bis zu 1.200 MBit/s. Kabelgebundene Anwendungen lassen sich über einen 2,5-Gigabit-WAN/LAN-Port und vier Gigabit-LAN-Ports realisieren.
Die FRITZ!Box 5590 Fiber kann über diese Anschlüsse Daten mit einer Geschwindigkeit von bis zu 10 GBit/s übertragen – damit ist sie die schnellste FRITZ!Box, die AVM je auf den Markt gebracht hat. Der moderne Wi-Fi-6-Standard ermöglicht dem Glasfaserrouter viele Geräte gleichzeitig und effizient im WLAN zu nutzen. Auch hat der neue Router alle FRITZ!Box-Highlights an Bord: Die Mesh-Technologie von FRITZ! für reichweitenstarkes WLAN sowie eine komplette Telefonanlage mit Anrufbeantwortern und eine DECT-Basis für den Einsatz von Schnurlostelefonen und Smart-Home-Produkten. Für die Einbindung externer Speicher oder Drucker stehen zwei leistungsfähige USB-3.0-Anschlüsse zur Verfügung. Das FRITZ!OS bietet den gewohnt hohen Komfort mit Firewall, Kindersicherung, Fernzugang/VPN, WLAN-Gastzugang und regelmäßigen Updates.
FRITZ!Box 5590 supports all common fiber optic standards (AON, GPON, XGS-PON) and is suitable for connections from all internet providers in Germany, including Deutsche Glasfaser or Deutsche Telekom. Users can connect the new FRITZ!Box 5590 Fiber directly to the fiber optic outlet and immediately enjoy the benefits of an all-in-one device: Fast internet, Wi-Fi, streaming, IP telephony, networking, and Smart Home. The FRITZ!Box integrates everything in one device, significantly reducing energy consumption. To distribute high fiber speeds wirelessly in the home network, the FRITZ!Box 5590 Fiber has powerful Wi-Fi and a range of different networking options. With the Wi-Fi 6 (4 x 4) wireless standard, data rates of up to 2,400 MBit/s are achieved at 5 GHz, and up to 1,200 MBit/s in the 2.4 GHz band. Wired connections can be implemented via a 2.5 gigabit WAN/LAN port and four gigabit LAN ports. The FRITZ!Box 5590 Fiber can transmit data at speeds of up to 10 Gbit/s via these connections. The modern Wi-Fi 6 standard means the fiber optic router can use multiple devices simultaneously and efficiently in the Wi-Fi network. The new router also has all the FRITZ!Box highlights on board: Mesh technology by FRITZ! for long-range Wi-Fi as well as a complete telephone system with answering machines and a DECT base station for cordless telephones and Smart Home products. There are two high-performance USB 3.0 ports for integrating external hard drives or printers. FRITZ!OS offers the usual high level of convenience with firewall, parental controls, remote access/VPN, Wi-Fi guest access and regular updates.