Charting the future of IFA
IFA International spoke with IFA Management's new CEO Leif Lindner about his vision for the future and anticipating next year's centennial celebration
In an exclusive interview, Leif Lindner, the newly appointed CEO of IFA Management GmbH, reflected on the successes of this year's show, the evolution of IFA, and the exciting plans in store for the show's 100th anniversary next year.
As you step into your new role as CEO of IFA Management, how do you plan to build on the legacy of this year's edition? What is your vision for the future?
The team organising this year's show did an outstanding job. They touched on many crucial topics that will remain important for the upcoming year. For instance, AI is a subject we've begun to explore, but there's much more to delve into. Currently, many of our exhibitors have showcased AI in various products. The startup area, IFA Next, was strongly expanded, and we anticipate even more developments in the next edition. Digital health is another burgeoning topic we've only slightly touched upon, but it will be a focal point next year. In essence, we view this IFA as a starting point, and many of these subjects will be our focus in the coming year.
Looking back on this year's IFA, which moments or statistics particularly resonated with you?
During the opening press conference, we announced over 2,000 exhibitors, of which 70% were returning exhibitors, while 30% were new to the show. I'm particularly proud that we sold out this IFA. We've seen increased interest from companies worldwide, eager to participate in next year's event. Especially for Asian companies, this year's IFA was paramount. It was heartening to witness the strength of the IFA brand in Asia and how companies leverage IFA for marketing and product launches.
In essence, we view this IFA as a starting point, and many of these subjects will be our focus in the coming year.
How does the 2023 show compare to previous editions in terms of attendees, exhibitor engagement, and global impact?
What I would like to emphasise is that while we aim for change, it's not always immediately recognised. However, German newspapers have noted a distinct evolution in IFA's presentation. We're in the early stages of a transition to a more modern, agile show that appeals to Generation Z. We're striving to refresh our image, becoming more innovative and entertaining, while honouring our 100-year legacy. Few global shows can boast such longevity. Next year's centennial edition will seamlessly blend the old with the new in a captivating manner.

Next year marks IFA's 100th birthday. Can you share a glimpse of what attendees can expect?
Certainly. Our primary goal is to entertain the entire city, making IFA a household name. We aim to create a real buzz next year with engaging and innovative concepts. We're reintroducing concerts in the summer garden and hosting various satellite events throughout the city. From early to mid-September, it will be impossible to visit Berlin without encountering IFA.
Were there specific tech trends or innovations from the 2023 show that you believe will shape the industry's direction in the future?
Absolutely. AI and platforms like ChatGPT are frequently discussed. The real question is how AI is integrated into consumer electronics and home appliances to simplify users' lives. I've seen traditional suppliers ingeniously incorporate AI into their products. It's crucial for the industry to embrace this technology. The home appliance sector, in particular, showcases the potential of AI. We're just scratching the surface. Next year, we'll provide a comprehensive overview of how AI can enhance our electronic experiences.
How do you plan to foster engagement with the global tech community as we gear up for the 2024 edition?
Our strategy involves more frequent and consistent communication through IFA channels. Moving forward, we'll utilise our platforms more regularly, ensuring we deliver relevant content. We'll also continue to support events like the startup night in Berlin and seek collaborations with other shows to expand our reach and explain the benefits of joining IFA.
TUNE IN FOR MORE:
Listen to the full interview with Leif Lindner, CEO, IFA Management GmbH, in the latest episode of the IFA Tech Talk podcast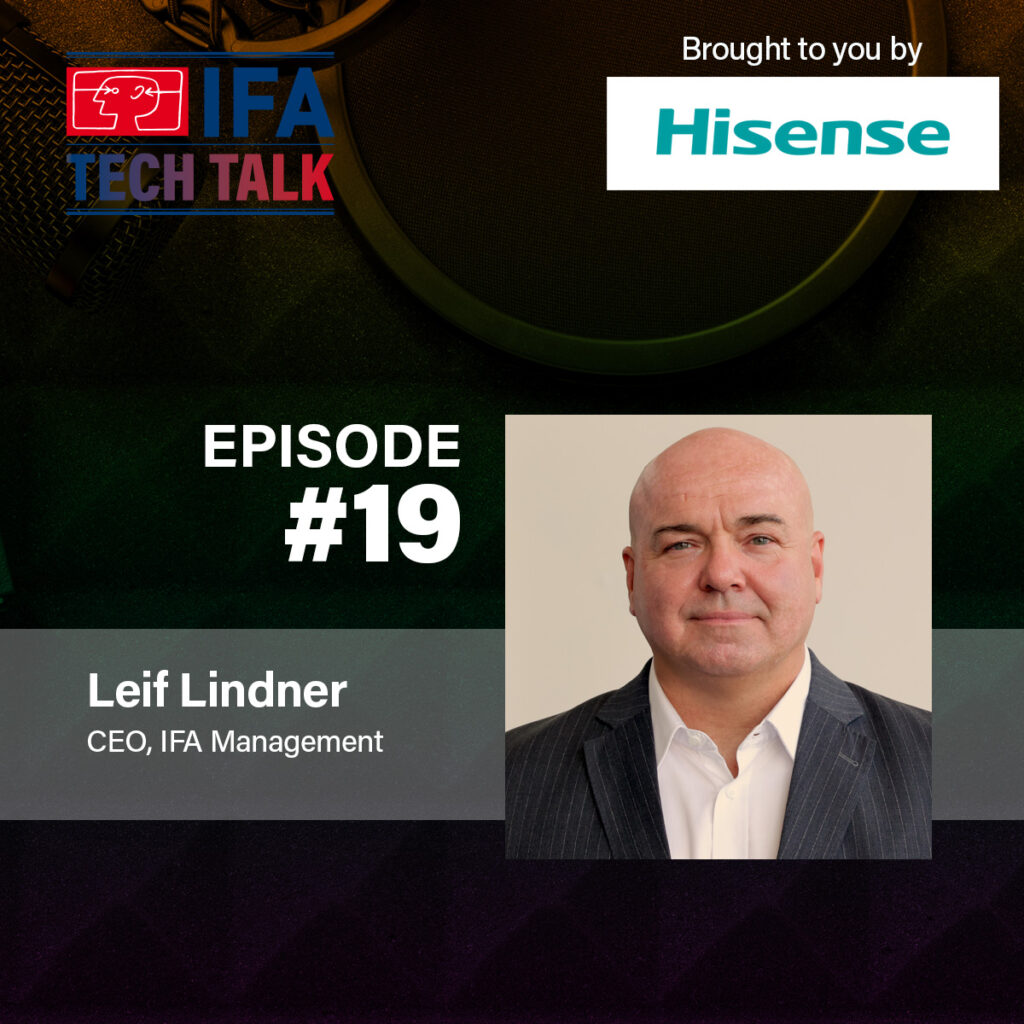 ---
IFA Berlin 2023: A showcase of innovation and resilience
This year's IFA Berlin was nothing short of spectacular, signaling a vibrant return to form. With a sprawling 130,000 square metres across 26 halls, the event hosted over 2,000 exhibitors, drawing a staggering 182,000 attendees from 138 countries. But beyond these impressive figures, IFA 2023 was a testament to the spirit of innovation.
The event introduced several experiential areas, from the forward-thinking Sustainability Village to the cutting-edge Robotics Hub. IFA Outdoors, set in the iconic Sommergarten, offered a blend of street food, activities, and relaxation spots, making it a favourite among attendees. Football enthusiasts had the chance to meet stars from FC Union Berlin and Victoria Berlin, adding a touch of sports to the tech-heavy event.
Keynotes by industry giants HONOR and Hisense provided insights into the future of foldable technology and the integration of consumer-centric services. The IFA NEXT innovation hub was also a particular highlight this year, connecting 350 start-ups with over 200 investors, fostering collaboration and innovation.
As Dr Sara Warneke aptly put it, the success of IFA 2023 has set the direction for future shows. With the centennial celebration on the horizon in 2024, the tech world waits with bated breath