ECOVACS explains why its flagship launched at IFA 2023 are breakthrough products
In the 25th anniversary year of ECOVACS ROBOTICS, the company showcased its two biggest launches to media and other guests on its booth with detailed explanations of why these new upgraded products in floor and window cleaning deserved to be called "breakthrough products".
The DEEBOT floor-cleaning robot range has a new, square-shaped addition, the DEEBOT X2 OMNI, while the WINBOT window-cleaning collection has been updated with the WINBOT W2 OMNI. The products were launched in China just two weeks ago and the DEEBOT X2 OMNI is now taking pre-orders, with sales starting in Europe on 14th September.
"Robotics for all" is the mission of ECOVACS as it looks to democratise robot usage at home. In line with this, the DEEBOT X2 OMNI is launching at a price of €1,399. The pricing of the WINBOT W2 OMNI is still to be finalised. WINBOT W2 OMNI will be launched in spring next year.
Taking the audience through the technical elements of both launches was Senthoorran Rajendran, Product Marketing Specialist for EMEA at ECOVACS. He began presenting the DEEBOT X2 OMNI, an AI cleaning tool with its own charging station and updated navigation features.
Squaring up to a difficult problem
"The first thing you will see is the square design which ensures better edge and corner cleaning," he said. "There has been a long-standing problem in solving edge cleaning of the round robots. That's because for square-shaped models you need far more advanced technologies which is why there were so few robots with this design."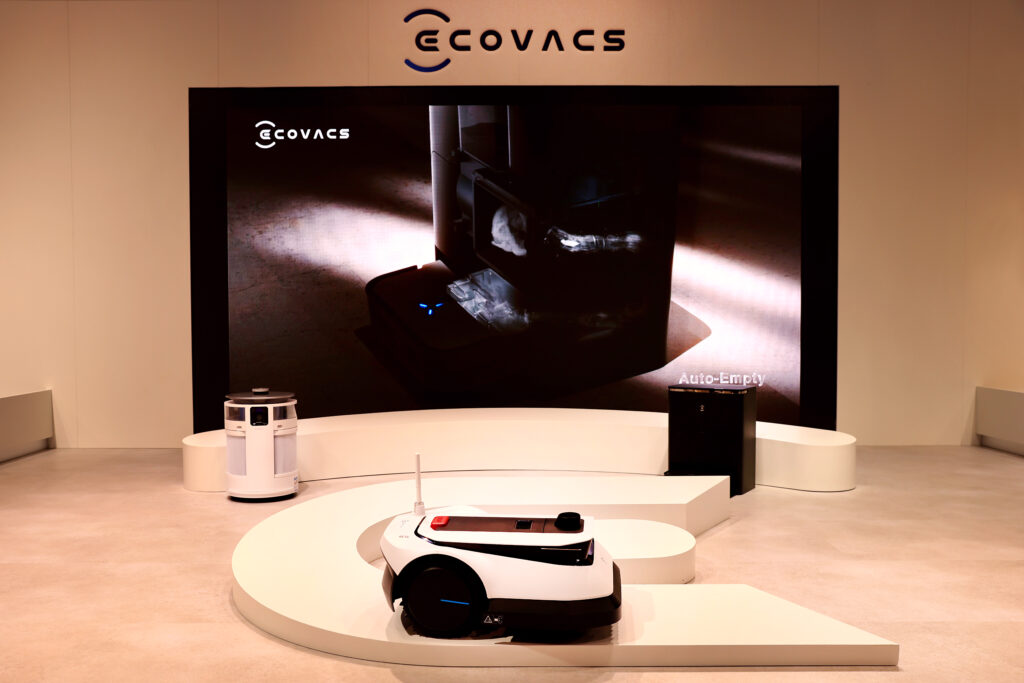 ECOVACS offers different robotic categories to the customers
One of the issues was that in narrow places, square robots could get stuck whereas the round ones would find it much easier to escape. Years of research were needed to overcome this simple obstacle. Now that it has been, the DEEBOT X2 OMNI can get into the corners that round robots can't. It has more than 99.7% cleaning coverage. In addition, the new version does not have a laser tower on top which has saved eight millimetres of the height.
This might not sound much but it's enough to allow the device to go into spaces it might not have reached before like under sideboards and beds. "The width has also been reduced which means the robot can fit between dining chairs for example which enhances the user experience," said Rajendran.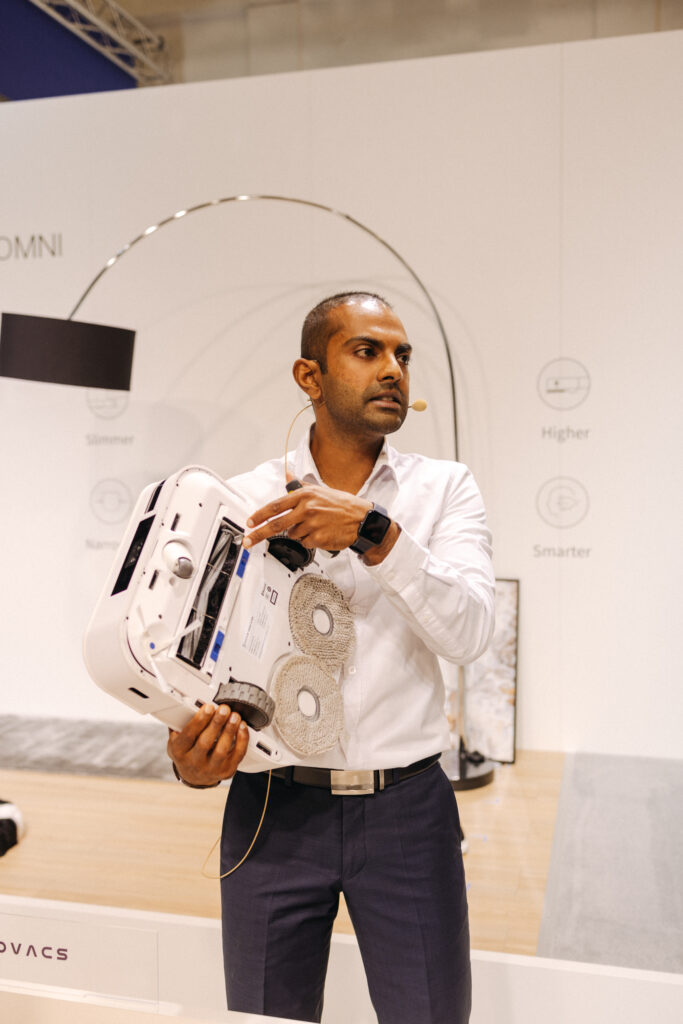 ECOVACS' Senthoorran Rajendran discussing the finer points of the brand's two latest launches.
Navigation and suction power
As well as shape, ECOVACS has worked on adding AI and using LiDAR navigation to allow DEEBOT X2 OMNI to avoid obstacles, even those that appear in its path in real-time; for example, an opening door, a pet, or a toddler. "The AI technology is deep learning and we developed it in the field of image recognition. We gave the algorithm a lot of images to recognise certain objects and the autonomous self-teaching system has combined that with existing data," said Rajendran.
With two lasers always sensing the environment, the unit can react to unforeseen objects and go around them, which is something that most robot floor cleaners can't do. Meanwhile, a strong suction power of 8000Pa combined with improved airflow into the robot has significantly enhanced the vacuum performance. The base station also has added functionality including auto-hot air drying, auto-empty, and self-cleaning.
Next up was the new WINBOT W2 OMNI window cleaning robot which now also has a station with space for the robot, cleaning solution and cleaning pads.. The power and safety cords have been combined into one and a better battery allows the robot to run for 80 minutes. In use, the unit also has improved functionality.
"The predecessor had a cross-auto spray function while now we have a three nozzle, wide-angle spray. Together with an increase of the water pressure by 100% and more water, it means a more even spray and coverage," explained Rajendran. The robot has a 30% improved cleaning efficiency thanks to better drive belts, while a brushless motor has decreased the noise level.