Samsung Electronics expands ViewFinity lineup with innovative 5K monitor
Samsung Electronics continues to innovate and raise the bar in monitor display technology with the launch of the 27-inch ViewFinity S9 (S90PC model). The high-resolution ViewFinity S9 is a CES Innovation Award honoree in 2023, purposefully designed to meet the requirements of visual and creative industries such as graphic design and photography.
Offering a workspace that's over 50% larger than UHD monitors and an unrivaled 5K (5,120 x 2,880) resolution, the ViewFinity S9 sets new industry standards for both professionals and home users.
Redefining visuals with cutting-edge features and smart calibration
Leveraging 99% DCI-P31 and 218 PPI (pixels per inch), the ViewFinity S9 presents saturated and vivid colours with sharp details and a typical brightness of 600 cd/m2 for adaptability across various lighting environments. Unique to the S9 is the apparently industry-first Smart Calibration feature controlled by smartphone, enabling users to fine-tune their screen settings without professional equipment using the SmartThings app. The ViewFinity S9 also takes user comfort into consideration with TUV-certified Intelligent Eye Care features and a matte display that curtails light reflection and glare for an uninterrupted workflow.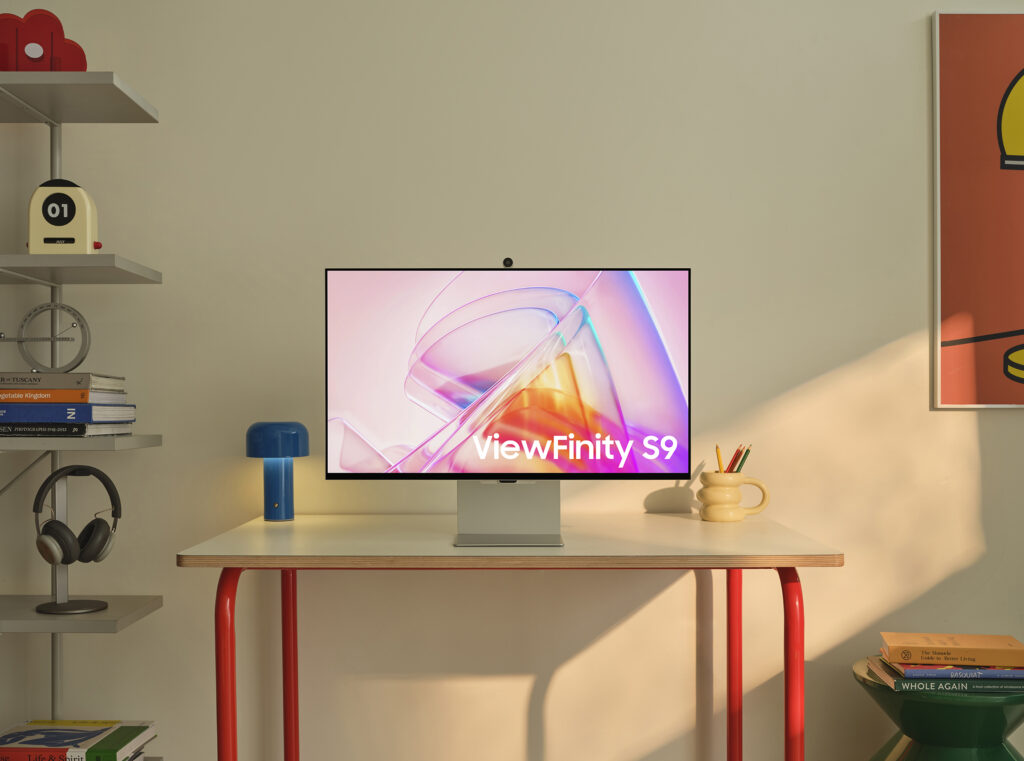 Credit: Samsung.com
Seamless connectivity and user-friendly design for work and entertainment
Ensuring flexibility and convenience for Mac and Windows PC users, the ViewFinity S9 provides diverse connectivity options such as Thunderbolt 4, mini DisplayPort, and USB-C. The built-in 4K SlimFit camera delivers high-quality video calls, enhancing professional communication. In addition to its performance capabilities, the ViewFinity S9 flaunts a sleek, ergonomic design and comes with smart TV apps for seamless transition from work to leisure. Its adaptive stand, pivot mode and VESA mount compatibility ensure it can be adjusted to individual user preferences, redefining what one can expect from a monitor in both the professional and entertainment realms.
The Samsung ViewFinity S9 is delivering exceptional visual quality and an expansive workspace for professionals in creative and visual industries. Its innovative features, including the industry-first smartphone-controlled Smart Calibration, provide unparalleled user control over visual settings. With its connectivity options, ergonomic design and dual work-leisure capabilities, it is claiming to set a new standard for high-performance monitors.
Read also : Redefining riding safety with LIVALL's MC1 range at IFA 2023
Visitors to IFA 2023 can experience Samsung's innovations live on their stand in CityCube B.
To register for IFA Berlin 2023, click here.